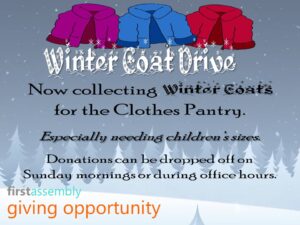 We are once again collecting clean, gently worn or new winter coats. We invite everyone to make a difference in our local community by donating one, two or several winter coats. All of the coats we collect will be distributed in our community and help our neighbors stay safe and warm this winter.
You can bring in your contributions during office hours, Mondays, 8 am – 12 pm and Thursdays, 12 pm – 4 pm, or on Sunday mornings.

There are adults, youth and children in our community who would love to come to church, but they do not have the means to get there. To facilitate this, we are looking for drivers and adult chaperone riders to volunteer for the Van Ministry. Fill out this form for more information and to sign up.